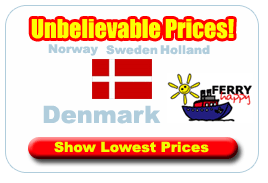 Ferry Happy to Denmark - Denmark Ferry Prices
A very warm welcome to Ferry to Denmark online. Book ferries from the UK to Denmark including Harwich to Esbjerg. You can also book ferries from Denmark to the UK. Be sure to get cheap prices on your ferry from Denmark by using our recommended ferry ticket booking engines online.

The most popular Denmark ferries route from the UK to is the direct one from Harwich to Esbjerg. The longer drive options from Dover to Calais then up through Belgium, Holland & Germany are far less attractive than the overnight direct sailings out of Harwich. This port also serves the Dutch port of Hook Van Holland with the Stena crossings. Book cheap ferries to Denmark right here online today !



Book Ferry Tickets To Holland and Scandinavia



---
---
Ferries to France
Looking for cheap Ferries to France. Ferries to France includes prices on all Ferry France journeys with all the leading operators including; Sea France, P&O France, Condor Ferries, Brittany Ferries & LD Lines. Ferries to France guarantees that you won't find cheaper anywhere else so why not take a look now and find the package that suits you best ! Visit our website now at www.ferriesfrance.org.uk
Ferry France Operators - Cheap ferry France



---
---

Ferry From Newcastle to Bergen
Book a Ferry to Bergen. Bergen is the second city of Norway and comes alive every summer with long daylight hours and an infectious energy.

Bergen has a population of 230,000 but the city is delightfully compact, making it easy to explore on foot.

Its real charm lies in the famous waterfront area, Bryggen, a picturesque old harbour district which dates back to the Middle Ages and is on UNESCO's World Heritage List. It makes a great area to explore, with its maze of narrow alleyways and old wooden houses. Read more about Newcastle to Bergen ferry: Newcastle to Bergen Ferry...

Book Newcastle to Bergen Ferry >>>

Also try the route to Rotterdam? Ferry To Rotterdam
Ferry Harwich to Hook of Van Holland
The Hook of Holland (Dutch: Hoek van Holland - literally "Corner of Holland"), also known in English as the Hook, is a town in South Holland in the Netherlands. The ferry service sails from Harwich in the South East of England to the Hook of Holland.

Hook van Holland is situated on the North Sea coast, on the north bank of the Nieuwe Waterweg ship canal. The town is administered by the municipality (gemeente) of Rotterdam as a district (wijk) of that city. The district of Hoek van Holland covers an area of 16.7 km² (of which 13.92 km² is land). On 1 January 1999 it had an estimated population of 9,400. Read more about Harwich to Hook van Holland Ferry: Harwich to Hook van Holland Ferry...

Book Harwich to Hook van Holland Ferry >>>



Looking for a cheap ferry to Amsterdam if so (click here) to visit our Ferry Amsterdam site.
---
Ferry Hull to Rotterdam
Rotterdam (pronunciation (help·info)) is the second largest municipality in the Netherlands after the capital, Amsterdam by population size, and the largest city in the province of Zuid-Holland (South Holland). The port of Rotterdam is the largest in Europe and was the world's busiest port from 1962 to 2004, when it was overtaken by Shanghai. Rotterdam is situated on the banks of the river Nieuwe Maas ('New Meuse'), one of the channels in the delta formed by the Rhine and Meuse rivers. The name Rotterdam derives from a dam in the Rotte river. Read more about Hull to Rotterdam Ferry: Hull to Rotterdam Ferry...

Book Hull to Rotterdam Ferry >>>

Ferries to Holland
Below you will find information about ferries and ferry routes to Holland. If you are looking for a cheap ferry or even the cheapest price possible to Holland remember to try to avoid weekend travel and request the most basic of ferry cabin accommodation when prompted. Ferries to Holland sail mainly from the UK ports of Newcastle, Harwich and Hull.

Also available cheap ferries to Copenhagen.
---
About Denmark | Car Ferries to Denmark | Cheap UK Prices to Denmark | Cheap Ferries to Copenhagen | Denmark Ferries | Newcastle to Bergen | Harwich to Hook of Van Holland | Hull to Rotterdam | Ferries to Holland | Home Page
Other UK Ferries
Finding the best ferry crossing to Jersey can be tricky if you are not sure where to begin. You want to be sure of the best ferry prices for your chosen destination. On top of that you want to be assured of a fast and reliable service with a trusted ferry operator. In general, when it comes to taking a ferry to Jersey you can rest assured that with Condor Ferries you are in safe, reliable and above all "value for money" hands!
www.ferriestojersey.com

For a cheap ferry to Bilbao why not travel with P&O Ferries from Portsmouth for the ultimate ferry journey. With P&O ferries you get superb onboard facilities plus great entertainment.P&O Ferries depart from Portsmouth every three days for most of the year and offer the most convenient cruise style crossings to Spain for car and passenger. Or instead of taking the Ferry to Bilbao why not travel from Plymouth to Santander with Britanny Ferries?
www.ferrybilbao.co.uk

The comfort on DFDS Seaways Ferries to Amsterdam have much more in common with cruise ships than most other cross-channel ferries, so you can expect a fantastic choice of luxury cabins as well as plenty of shops, restaurants, bars & superb facilities. If you where to book a mini cruise there would be a coach awaiting on arrival for you to take the last leg of the journey into the city Amsterdam. If you would rather take the train then there's Centraal Station or you could even continue with the Fast Flying Ferries' jetfoil service. Cabins start at £69.00 per person (one-way) although there are frequent promotions bringing the price down.
www.ferryamsterdam.co.uk